Alexander Corporate Art Solutions transforms ordinary spaces into extraordinary expanses of elegance and beauty with Custom Curated Art.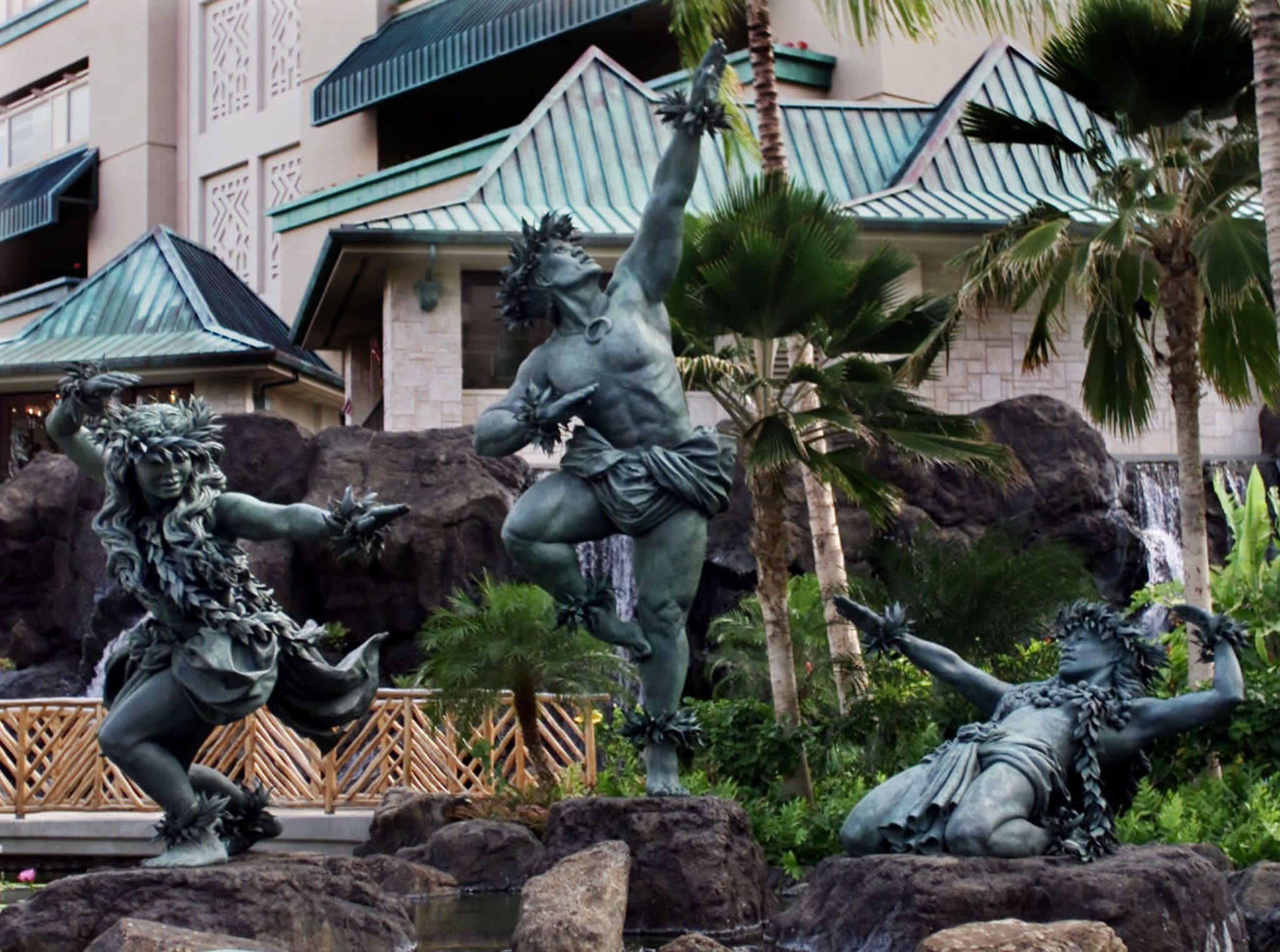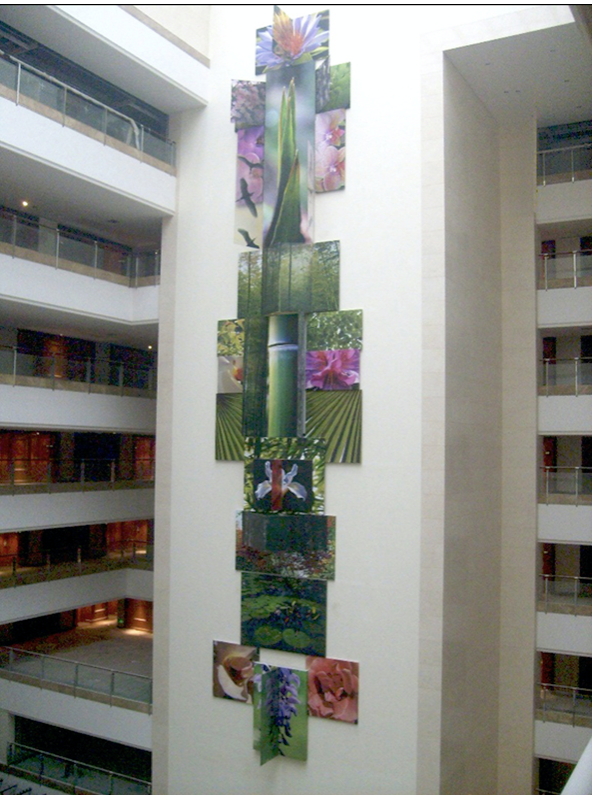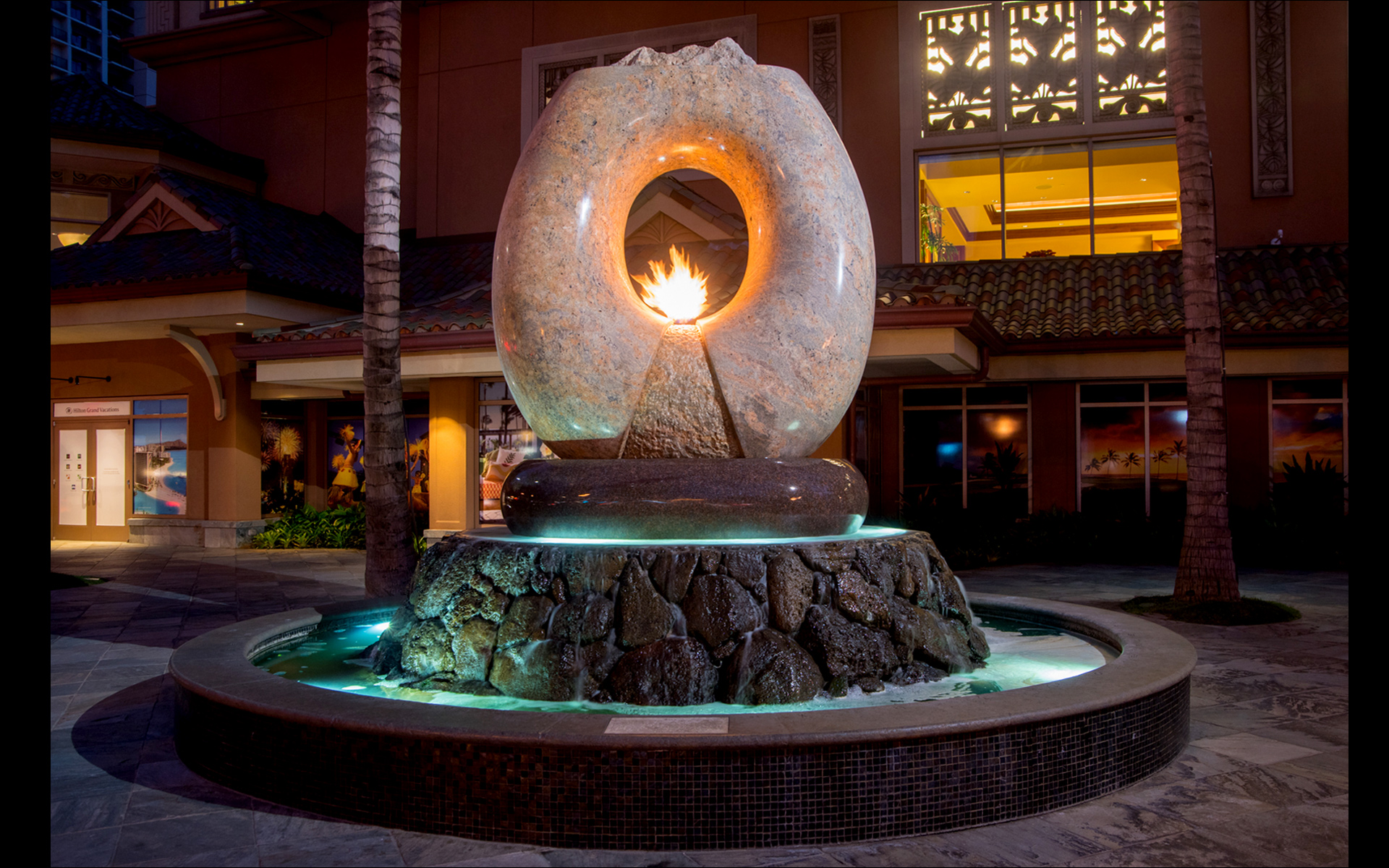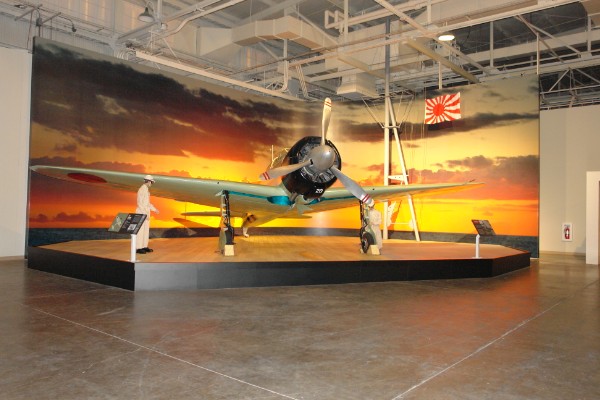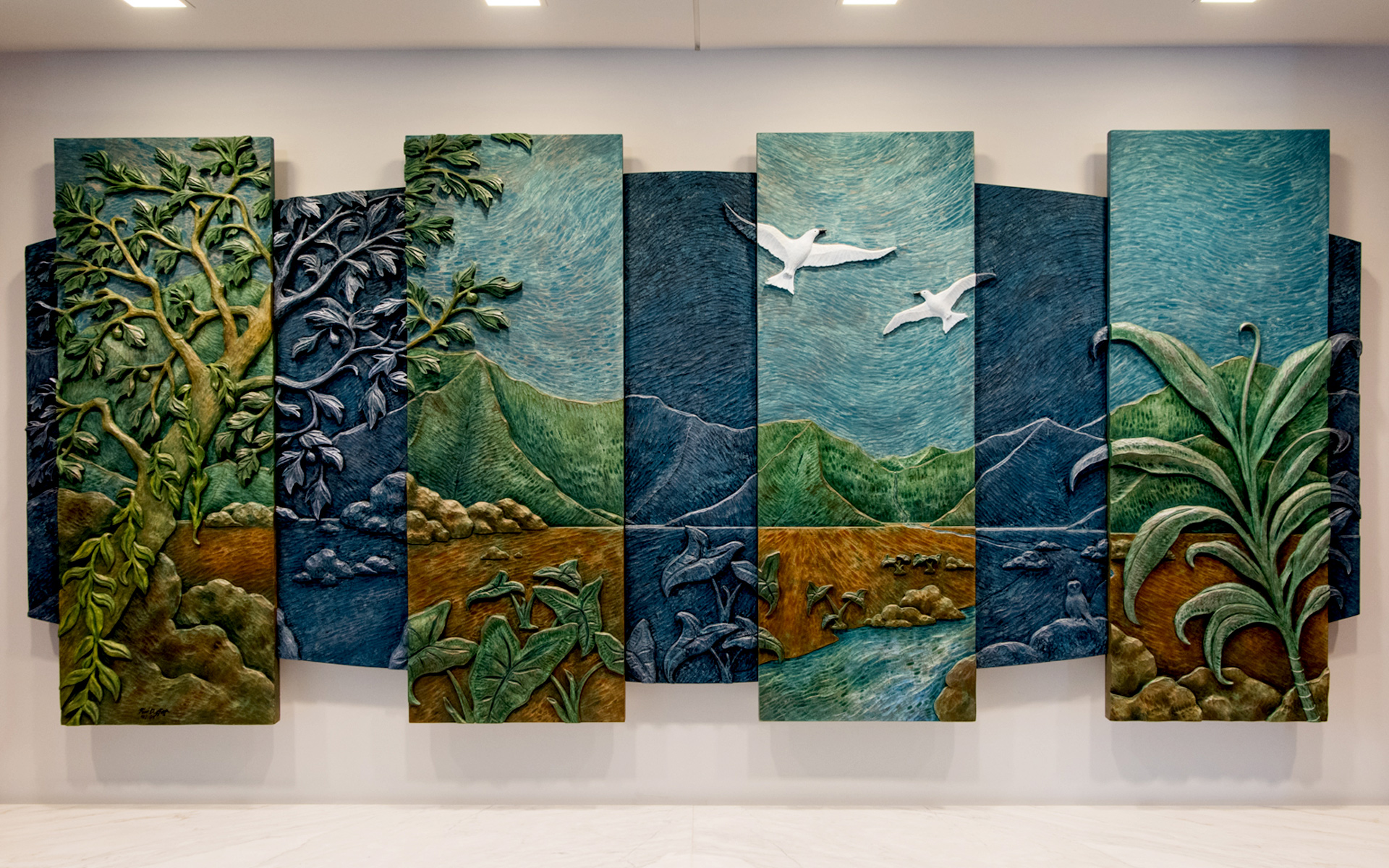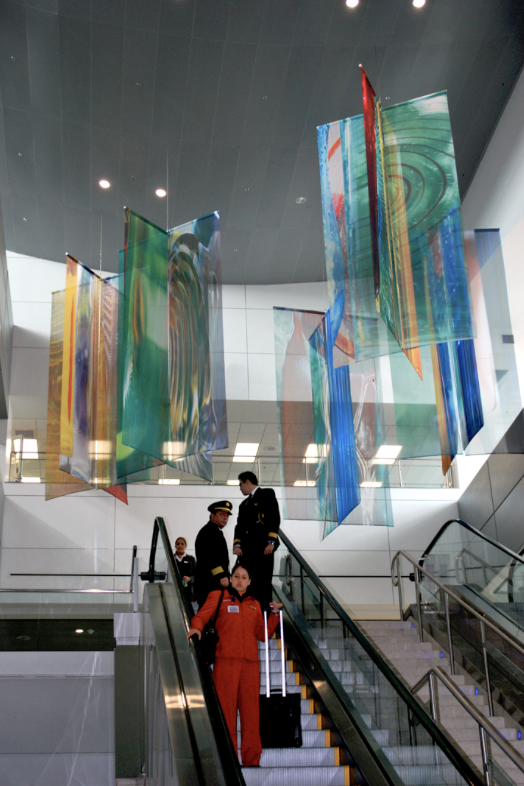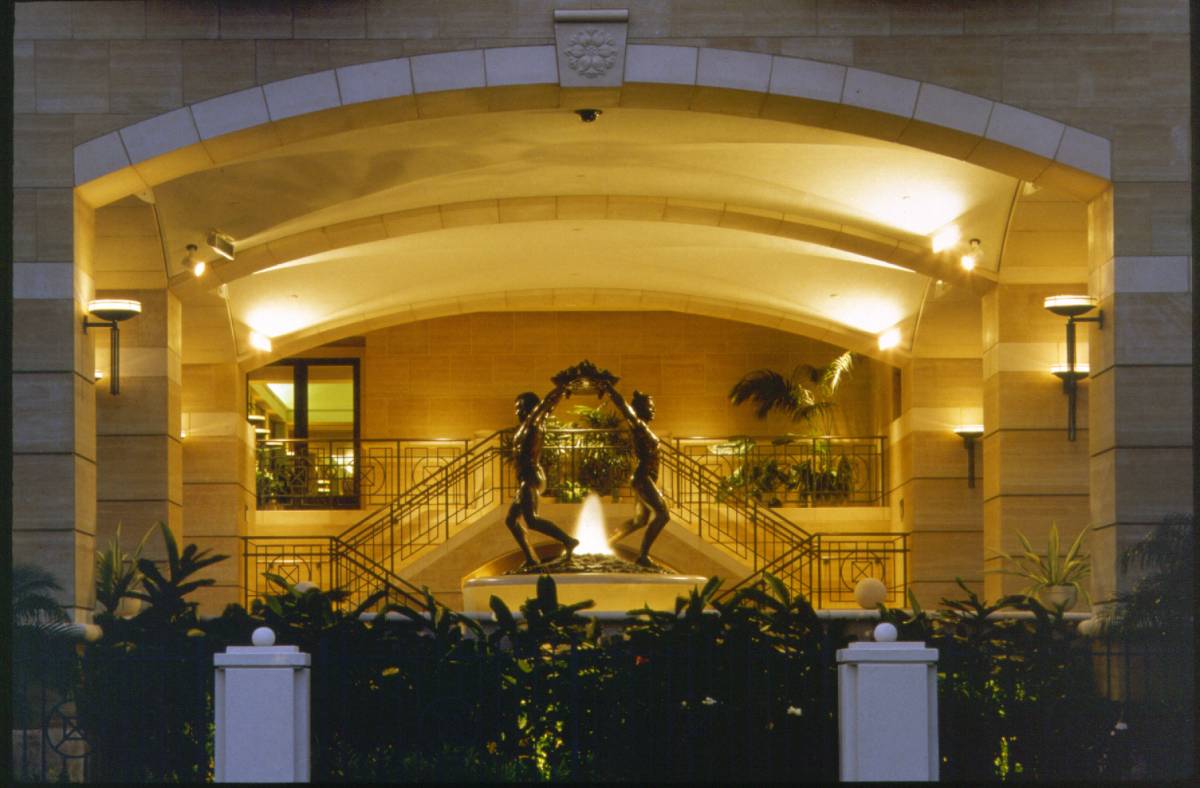 Twice Life Size Sculptures
Hilton Hawaiian Village, gracefully striding the edge of a waterfall, these three, twice-life size figures in Bronze are dancing hula kahiko, the ancient style of Hawaiian dance. Artist~KD
84 ft Mixed Media Sculpture / China Hotel
Garden Mandala, 84 ft. tall mixed-media commission, commissioned for the atrium of the new Garden Hotel in Yixing, China. Artist~T. C
Sculpture
"Aina" for the Hilton Grand Vacation Waikiki … the sculpture hewn from granite the color of polished warm sand. It is a cycle of the elements of Earth, Air, Fire and Water, those very elements that continuously shape all that surrounds us. This monumental ten ton arch floats on the surging waters that erupt around its three ton, black and red granite bowl or papa ku'iai and cascade down the lava rock he'eau. Commissioned by the Hilton Hawaiian Village in Waikiki, Hawai'i. Completed in December, 2008. Artist~KD

Pearl Harbor Aviation Museum / Zero Exhibit
Pearl Harbor Aviation Museum~ 3M large format Dioramas for all the museum exhibits and 52 foot Floor Map, image supplied by National Geographic. Image produced and installed by FS.
KD "Ark of Time""
Ark of Time"~ 5' x 10.5' x 2.5" acrylic on hand carved Precision Board. In this Hawaiian mountain valley landscape, the scene is broken up into two levels symbolizing Day and Night, the Present and the Past. Amidst the landscape are four native plants, that represent in ancient Hawaiian times essential qualities of Justice. Created for the law offices of Goodsill, Anderson, Quinn & Stifel in downtown Honolulu, Hawai'i. Completed February 2013 Artist~KD
LP "Aqua Wave Hotel Waikiki Lobby Triptych"
Two 10 ft. gallery wrapped giclees greet guests as they enter the Aqua Waikiki Wave. This beautiful boutique hotel is themed after artist Charles Bartlett (Hawaii 1860-1940). Commissioned by Jane and Andre Tatibouet.
MVS "Red Lotus" Glass torso
von Sonn Glassworks
"Red Lotus" Slumped Glass Torso
TC "Miami Airport Mobile"
"Temporary Altars" ~ Miami International Airport.
Digitally printed Chiffon mobiles 4 ft. X 16 ft. each. Altars in the tradition of Tibetan Tangkas. Artist~T.C.
Punahou Condo
"New Spring", 14' x 7' x 7' in bronze and cast stone. A cycle of elements framed by the arching bodies of two Hawaiian warriors. Supported by the Earth, their backs encircle the element of Air, the elements of Light and Water springing forth between them.
Commissioned by Haseko Hawaii Inc. for the Courtyards at Punahou in Honolulu, Hawaii. Completed December 1992. Artist~KD